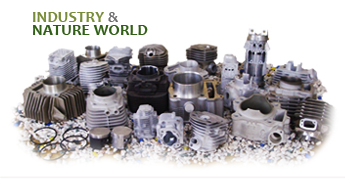 We respect the land and ocean that belong to you and me. In the corporate development thinking, we have special focus on the attention and responsibility for environmental protection.

In addition to the compliance with the environmental regulations of Taiwan, we are dedicated to the minimization of environmental impacts generated from the actual production process.

SHINHER POWER was established in the spring of 1990 by several employees who originally worked for the piston ring factory of Japanese Technology, including the technical department supervisors of material casting, metal machining, and surface treatment with productive practices and experiences in professional territories for many years.

.Casting iron factory     
.Alloy Aluminum Gravity Casting
.Alloy Aluminum Die Casting and Chromium Plating
.Nikasil Coating Alloy Aluminum Cylinder


We have diligently accumulated more technical knowledge and productive experiences since beginning to devote on the cooperative relationships between cylinder, piston, and piston ring in the design of engine, which is enriched by SHINHER POWER. We may not be the largest supplier of cylinder in Taiwan, but we are definitely the most professional, excellent, and satisfactory supplier of cylinder.